Women's Corona Society of The Bahamas Donates to Bahamas Feeding Network, Joins Fight Against Hunger
02/23/2023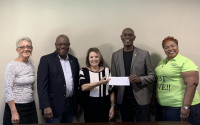 On January 18th the Bahamas Feeding Network received a generous donation from the Women's Corona Society of The Bahamas in an initiative to support Bahamians in need in the fight against hunger. The Bahamas Feeding Network was one of several recipients that received support. 

We chose The Bahamas Feeding Network as one of our charities as we saw the incredible work being done by the organization in many sectors of our society," said Lady Angela Moree. "Our children cannot learn when they are hungry, wondering where their next meal is coming from. The Bahamas Feeding Network reaches and assists many communities helping those that are underserved." 
"We are very appreciative of this recent donation because of its timeliness," said Bahamas Feeding Network Chairman, Felix Stubbs.

"We know that at beginning of a new year many Bahamians are feeling the pinch to give due to the current economic state, increase in inflation, and spending during the holiday season. We've noticed that contributions are down due to these things. So, every little bit helps to make sure that we are able to address as much of the demand we saw last year and what we are seeing now for the new year."  
With one out of every eight people living below the poverty line of less than $12 a day, the Bahamas Feeding Network has worked tirelessly to alleviate the pain of hunger throughout the distribution of food items and parcels. During the latter half of 2022, the NGO served over 800,000 meals assisting just over 100,000 people in need. 
"We are doing our best to help persons in need, but there is a gap in terms of what donations we receive coupled with the demand of persons in need," said Executive Director Archdeacon James Palacious. "Whenever we get more, we can always give more. We are not in the business of hoarding any goods. Our goal remains the same – to ensure that no one goes hungry." 
In its previous model, the Bahamas Feeding Network would churn out thousands of meals from a modest kitchen at its Moseff House location to assist persons in need. Today, the organization distributes both parcels and vouchers depending on the donations they receive. Each month they distribute 100,000 meals to nearly 100 soup kitchens, churches, feeding centres and other organizations. 
This donation is not the first of its kind for the women's club. In 2016, the club made a donation to assist the Bahamas Feeding Network in its fight against hunger. 
Other donation recipients included the All Saints Camp, Bahamas Girl Guides Association, Bahamas Association for the Physically Disabled, Great Commission Feeding Bank, Elizabeth Estates Children's Home, Ranfurly Home for Children, Sister-Sister Support Group, Bahamas Heart Foundation and Bahamas Music Society.