The Long Weekend – A ton of laughs for 3 worthy causes
02/02/2023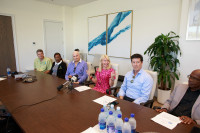 Proceeds from comedy benefit Bahamas National Trust, Bahamas Feeding Network and Lend A Hand
What happens when two couples head to the country for an unplugged weekend and their true feelings about each other dish out riotous backbiting along with barbeque? It's the story line of a sophisticated comedy coming to Atlantis featuring well-known stars including Bahamian resident Heather Hodgson Kosoy with proceeds going to three powerful causes.
Called The Long Weekend, written by Norm Foster and produced by Hodgson Kosoy's 2Hoops Productions, the 2-act, 2-hour comedy (20-minute intermission) was originally scheduled to run in March 2020.
"We were four days into rehearsal when the clock stopped," says Kosoy, who moved to The Bahamas from Canada following a three-decade long career on stage, movies and TV, including a popular weekly series called "Meet the Family".
In 2019, she co-produced "The Love List" with Atlantis, a comedy that sold out night after night. The following year she was preparing for her second production at the Paradise Island resort a show that promised deep belly laughs and droll cynical sarcasm delivered at staccato speed.
Instead, COVID slammed the curtain down before it rose. "We had to figure out how to get the actors out of The Bahamas instead of how to get them ready for the show," says Kosoy, a woman in search of humour wherever it lands.  
Two years later, and now with one of the major roles being played by well-known local actor D. Sean Nottage, the show is in rehearsals with a first-night premiere and party set for Thursday, February 16.
"We're really excited about that both because of the causes we are raising funds for combined with the chance to enjoy a comedy when we could all use a bit of comic relief and for the first nighters, the opportunity to experience the grand opening of Paradise Landing," said the actor/producer.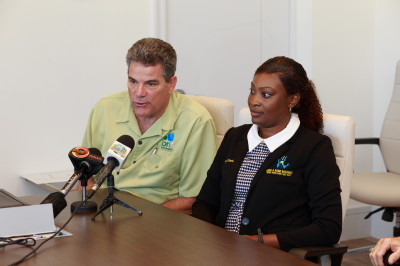 Geoff Andrews expresses his gratitude
Paradise Landing is the umbrella brand for a nearly six-acre redevelopment that when completed will create a downtown on Paradise Island, complete with shops, dining, residential and the country's first purpose-built superyacht marina. The project is being developed by Sterling Global Financial headed by David Kosoy, chairman.
"We wanted the play to benefit worthy causes so it was a natural to select those that have been vetted by and are the social responsibility pillars of Sterling Global Financial," explained the actor. "Net proceeds will benefit the Bahamas Feeding Network, Bahamas National Trust and Lend A Hand."
Each of the non-profit organizations will have one night during the 9-night run with all net proceeds to its cause from the barbequing and backbiting comedy. Performances will run through Sunday, February 19 and again the next week, Tuesday, February 21 through Saturday, February 25.
Playwright Norm Foster, OC, explains the script.
"Upwardly mobile Max and Wynn invite 'best friends' Roger and Abby for a relaxing weekend in the country, which quickly disintegrates into a backstabbing battle of wits filled with hilarious twists and turns as the gloves come off in this sexy, sassy upbeat comedy," says Foster, who is Canada's most preeminent comedic and most produced playwright.
Adds Kosoy, who plays Abby, the wife of the couple invited to see the new country cottage their 'best friends' want to show off, it's a battle of wits.
"The entire show is a hilariously tangled web of truths, deception and surprises that leave the audience guessing – and laughing – all the way to the final curtain. The set might be a new home, but the scores they settle are old and deliver mischievous fun, the kind where the audience laughs aloud and is relieved it's someone else going through the torture."
In addition to Kosoy who plays Abby, actors include Nottage, who has claimed a DANSA Award for playing Juror #8 in "12 Angry Men", played lead roles in several Shakespeare in Paradise productions and has appeared on the big screen, including as a stand-in double for Pierce Brosnan in 007 films.
Hodgson Kosoy who delighted audiences in her first run of sell-out shows at the Atlantis Theatre has performed across Canada on a variety of stages and as a Company member of both Drayton Entertainment and the Stratford Shakespeare Festival. She has also been featured in a variety of both Canadian and American film and television productions, including a recurring role in CityTV's award-winning television series, "Meet the Family" and the award-winning short film, "Pink", which she also executive produced.
 Also starring in "The Long Weekend" is Alison Lawrence who most recently appeared as Whoreen in Amazon Prime's "The Lake", and was seen in "Ghosts" (CBS) and "Murdoch Mysteries" (CBC). A well-known live theatre actress, Lawrence is also an author, writing screenplays, musicals and the popular book, Penguin "Bittergirl: Getting Over Getting Dumped".
 Stephen Sparks, playwright and actor who has appeared on most major Canadian stages from coast to coast in productions ranging from a musical adaptation of "Little Women" to Disney's "Newsies" joins the cast after a host of TV credits included "Warehouse 13" and "Lost Girl."
Platinum sponsors are Sterling Global Financial, Sterling Hurricane Hole Ltd. and Island Site Development. Tickets range in price from $39 + VAT to $75 and are available at
https://www.atlantisbahamas.com/events. Group prices are also available.