Colina Contributes $10k Towards Food Parcels
05/27/2021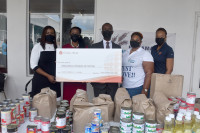 Volunteers from Colina Insurance Limited (Colina) packed food parcels at The Bahamas Feeding Network today, donating ten thousand dollars towards the purchase of nonperishable items for those who need them most.

"Colina counts it a privilege to provide food parcels to those who need it through a partnership with The Bahamas Feeding Network," said Maxine Seymour, Director, Corporate Communications, Colina. "I cannot imagine The Bahamas without BFN; the work they do is to be commended."
The Bahamas Feeding Network (BFN) aims to provide food assistance to thousands in need across The Bahamas by acting as a collection and distribution hub.
 "Colina has been consistent in giving to us and we want to truly express our sincere thank you and appreciation," said Philip Smith, Executive Director, The Bahamas Feeding Network.  "They truly have a heart and have been supporting us for years."
 "As an insurer, our business is about mitigating risk and hunger is something that can happen as a result of a circumstance that was not necessarily expected," said Seymour.  "A year ago, food security was something that many people did not consider but, because of the pandemic, it has become a priority for more persons in our community."
 According to BFN, they fed more than half of the population during the pandemic, peaking at 220,000. The amount of people who receive food parcels has recently been reduced to approximately 90,000. 
 "We want to encourage other organizations to follow what Colina is doing today by assisting with the feeding," said Smith. "One must eat to live and food is truly an issue for many persons." 
 Each food parcel, estimated at fifty dollars, includes common household staples: five pounds of rice, four pounds of sugar, a box of corn flakes, mashed potatoes, two boxes of macaroni and cheese, five pounds of grits, four cans of tuna, four cans of mackerel, four cans of corned beef, two cans of spaghetti, a jar of peanut butter, two large cans of cream, two cans of sausage, tomato paste and vegetable oil.
 "Thank you, thank you, thank you [to] Colina.  Donations like these go a long way in helping [to] combat the hunger crisis in our society," said Smith.
 Colina presented the donation at The Bahamas Feeding Network's temporary headquarters in the former The Zoo Nightclub or Club Luna building on West Bay Street.  The organization relocated earlier in January; the current location offers improved parking and accessibility facilities.