2,000 Families to be Fed During 2nd Annual Feed 5,000 Campaign
12/19/2017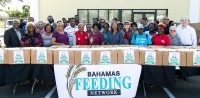 Volunteers and directors of the Bahamas Feeding Network and staff members of AML Foods Ltd.  today gathered in the parking lot Solomon's Yamacraw, where they packed and distributed more than 1,000 parcels filled with rice, chicken, ham, stuffing and vegetables donated during a month-long Feed 5,000 Families campaign spearheaded by AML Foods Ltd. to benefit nearly 60 feeding centres, churches and soup kitchens which make up the Bahamas Feeding Network in New Providence.
"We are so pleased and grateful for the support received from each individual and company which donated towards our Feed 5,000 Families initiative," said Renea Bastian, Vice President of Marketing & Communications at AML Foods Limited. "While we did not meet our self-imposed $100,000 goal, we've passed the $64,000 figure we collected last year by collecting over $80,000. This will allow us to distribute over 2,000 holiday meal packages to families in need with equal distribution in New Providence and Grand Bahama."  

The public was invited to purchase $40 meal packages or make contributions towards a package at participating AML stores in Nassau which included Solomon's Fresh Market Harbour Bay, Solomon's Fresh Market Old Fort Bay, Cost Right Wholesale, Solomon's Super Center and the new Solomon's Yamacraw store or in Grand Bahama at Solomon's Lucaya, Solomon's Queen's Highway and Cost Right Wholesale Freeport. Through a partnership with ALIV, persons were also able to donate by texting FEEDAML to 2548 on any ALIV phone.  

Bahamas Feeding Network Executive Director Philip Smith beamed as he stared at the stacks of boxes piled high of food to satiate those who might have otherwise gone without this festive season. "Today I am overwhelmed at the outpouring of love all of you have shown your brothers and sisters," he said. "The sheer quantity of food parcels collected will allow more than 2,080 families to eat this Christmas. Two thousand and eighty families could be as many as 10,000 people." Distribution is scheduled to take place on Wednesday in Freeport, Grand Bahama. 

"We are indebted to AML Foods Ltd. for the support they've shown the Network over the years and the compassion they've expressed in identifying us as the beneficiary of this incredible Feed 5,000 campaign," said Smith. "We look forward to the operation growing year after year and we hope that AML will select the Bahamas Feeding Network to partner with next year. We already have great ideas about how to make it even bigger."Government statistics peg the level of poverty at nearly 13% of the population, or about 40,000 persons who go hungry on a daily basis. The Bahamas Feeding Network, launched in 2013, provides food parcels and prepares and distributes more than 2,200 hot meals every week through its partner feeding organisations including churches, soup kitchens and other feeding programs. Chairman is Felix Stubbs and His Excellency Frank Crothers is its golden patron.


Volunteers of the Bahamas Feeding Network & AML Foods Ltd. pack thousands of boxes with food items as part of the Feed 5,000 campaign that sought to provide holiday meals to families in need. (Photo by Cay Focus Photography for DPA.)



Some 60 feeding centres, soup kitchens and churches, which make up the Bahamas Feeding Network, were represented at the Feed 5,000 campaign spearheaded by AML Foods Ltd. (Photo by Cay Focus Photography for DPA.)



Bahamas Feeding Network directors were on site to lend their support to the Feed 5,000 campaign spearheaded by AML Foods Ltd. This year's distribution in New Providence provided over 1,000 holiday food packages to some 60 members of the Bahamas Feeding Network. Pictured (l-r): Rev. Timothy Stewart; Elaine Pinder; Major Clarence Ingram; Patricia Hermanns; Shayne Davis; H.E Frank Crothers, Bahamas Feeding Network Founder; Robin Symonette; Renea Bastian, Vice President of Marketing & Communications at AML Foods Limited; Anthony Myers and Phillip Smith, Executive Director Bahamas. (Photo by Cay Focus Photography for DPA.)



The packing of holiday meal packages continues with volunteers piling rice, chicken, ham, vegetables, and stuffing into boxes for distribution to those in need this Christmas season. The Feed 5,000 Families is an initiative spearheaded by AML Foods Ltd. with Bahamas Feeding Network as the beneficiary. (Photo by Cay Focus Photography for DPA.)