The Bahamas National Feeding Network (BNFN) Increases Focus on
Eliminating Hunger in Family Islands 

07/12/2016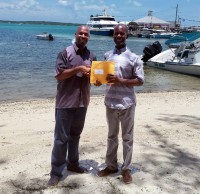 BNFN Makes Donation to Wesley Methodist Church on Harbour Island. The Nassau-based non-profit organisation, which acts as a hub for distributing food to feeding centers throughout The Bahamas, has ramped up distribution efforts in the Family Islands in the past six months by partnering with 20 organisations on Grand Bahama, Abaco, Andros and Eleuthera.
Hailed for its picture-perfect pink sand beaches by the likes of Fodors, Frommers and The Travel Channel, Harbour Island is a mecca for snorkelers, divers and fisherman alike. Still, like many islands in The Bahamas, this popular tourist destination is no stranger to the issue of hunger.

That's why The Bahamas National Feeding Network (BNFN) Executive Director Philip Smith took advantage of a recent trip to Harbour Island to meet with Rev. Henry Knowles, senior pastor of Wesley Methodist Church. In the nearly three years since BNFN has distributed food and funding to feeding centers throughout The Bahamas, the programme has donated more than $350,000 to its partners around the country. 

"It's an absolute honour for me to be able to meet with anyone who is doing so much for their community," he said. "Whether here in New Providence or on any other island in The Bahamas, I always want to make sure that I am in touch with those who are helping us get food to the people who need it the most."

"Working with Mr. Smith and The Bahamas National Feeding Network has been a true blessing," said Knowles. "This donation will go a long way toward helping folks, both inside and outside of our parish, who struggle every day just to provide basic nutrition to their families."

Once the capital of the country, Harbour Island is a mere 60 miles from New Providence, but access to resources can sometimes be scarce—a scenario common among the Family Islands. While this group represents only 13 percent of the total population in the country, its poverty rate is significantly higher (17.2 percent) than in New Providence (12.4 percent) and Grand Bahama (9.4 percent)

"Poverty rates are on the rise leaving children in the Family Islands, in particular, even more vulnerable to experiencing hunger," said Smith. Because of this, BNFN recently expanded its reach by partnering with 20 organisations in Grand Bahama, Andros, Eleuthera and Abaco, bringing its grand total of NGO partners to 110. "If we want to eradicate hunger in The Bahamas, the Family Islands must be a part of that."

Smith added that it's not only access to resources that are contributing to the escalating hunger issue in The Bahamas, but dwindling natural resources as well.

"While most people recognise that the world is facing a future of water shortages, not everyone fully grasps that this could also mean a future of food shortages," Smith said. "We're trying to do everything we can to raise funds and awareness today so that we're prepared for any eventuality the future may bring.