Carl's Jr. Delivers the Goods for Bahamas National Feeding Network
 Hundreds of Cans Collected for Hungry
06/21/2016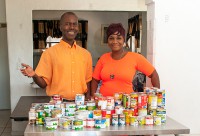 Carl's Jr. Partners for Canned Food Drive –  More than 1,100 canned goods were collected as part of a recent canned food drive in which Bahamians received free burgers from Carl's Jr. in exchange for their donation of two cans of food.
An estimated 1 in 8 persons around the world are chronically hungry—a pretty hard number for most to even begin to comprehend. Even more difficult to digest, however, is here in The Bahamas that number is closer to 1 in 6. 

That's why participation in a canned food drive is  particularly critical to supporting the efforts of an organization like Bahamas National Feeding Network (BNFN), a non-profit agency that organizes the distribution of food coupons and goods among charities, soup kitchens and outreach programs streamlining efforts  and reaching those in need quickly and efficiently. 

During this year's National Canned Food month, BNFN got a boost through a Carl's Jr. led initiative where the popular fast-food franchise hosted a Nassau-based canned food drive during February, the month that is earmarked internationally for the food drive.

  "The drive went very well," said Philip Smith, Executive Director for Bahamas National Feeding Network. "Carl's Jr.  collected several hundred cans and we were able to distribute to our members."
To help maximize participation, Carl's Jr. offered up a free cheeseburger to anyone who donated two cans of food and invited customers to post images to the company Facebook page using the hashtag #ICanHelp to encourage even more patrons to drop off donations. Junior Achievement company BEC Fuse also got in on the action through the donation of can goods to the drive which resulted in students at Yellow Elder Primary receiving lunch from Carl's Jr. 

"This was our first year participating," said Shirlen Godet, franchise marketing manager with AML Foods Ltd., parent company for Carl's Jr. "This small act of kindness helped make a difference in the lives of local families uncertain of where their next meal will come from."
With 12.5% of the Bahamian population living below the poverty line and 50% of those identified as children ages 14 or under, promotions and donations by major corporations such as AML are crucial to sustaining BNFN's current rate of feeding persons.  
"In an ongoing commitment to the Network, AML has agreed hold the canned food drive once a year as a part of the partnership" Smith said. And Godet is positive each year's total donations will grow, adding: "It's going to be bigger and better!" 

Member partners of the BNFN are Ambassador Choral Int'l, Annis Antribus, Assemblies of God – Gladtidings Tabernacle, Bahamas Red Cross, BASH, Benevolent Women's Ministry, Bethel Baptist Church, Brea Seventh Day Adventist, Calvary Bible Church, Change Ministries Int'l. Christian Gospel Chapel, Church of God of Prophecy, Club Restoration, Core of Hope, Cornerstone Haitian Church, Cornerstone Partners of Hope, Cornerstone Zion Ministries, Dave Horton Ministry, Ebenezer Methodist Church, Eljhay's Hilltop Cottage Ministries, Ezekiel House of Mentoring, Family of Faith Ministry, Family and Support Foundation, Glory Carriers Ministries Int'l, God Temple of Praise, Great Commission Ministries Int'l, Haley Apostolic Ministries, Hands of Hope, Heal Our Land, Hope for the Hopeless, Judea Baptist Church, Kingdom Ambassadors World, Outreach Ministries, Kingdom Mercy Ministries, Lakeview Church of God, Low Sound Seventh Day Adventist, MCC Methodist Church, Miracle Deliverance Restoration Ministry Int'l, Mosseff House, Mt. Calvary Baptist Church, Mt. Olive Baptist Church, Mt. Paran Baptist Church, New Bethany Baptist Cathedral, New Life Restoration Ministries, New Mt. Sinai Baptist Church, New Mount Zion Missionary Church, New Vision Ministries Int'l, Opening Doors Ministries, Operation SOLD, Pentecostal Baptist Church, Prayer & Deliverance Int'l, Redemption Seventh Day Adventists, Remnant Tabernacle of Praise, Resurrection Ministries, Sanctuary of the Redeem, Second Chance Ministries, Seventh Day Adventist Church, Shiloh Temple Baptist, Society of St. Vincent DePaul, Solid Rock Church, South Andros Christian Center, Spirit of Life Ministries, St. Joseph's Church, St. Michael Catholic Church, Stephen Dillet School, Steve McKinney Feeding Ministry, Street Outreach,  Sylvia Soup Kitchen, The Anglican Diocese, The Salvation Army, Valene Benjamin Ministries, Vision of Hope Cathedral, Word of Truth, Youth for God through Christ, Wesley Methodist Church and Zion Yamacraw Feeding Ministry.