Employees of Pictet Bank & Trust Limited and Pictet Group Foundation Extend Support to the Bahamas Feeding Network
09/14/2020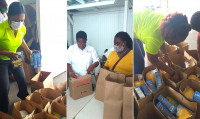 During the latest lockdown on New Providence which resulted in reduced activity for businesses and those not deemed essential service providers, the Bahamas Feeding Network (BFN) continued its mandate to provide food resources to those in greatest need through a cash contribution of $9,350 made possible by a combined effort of Nassau-based Pictet Bank & Trust Limited and the Pictet Group Foundation which operates from the Bank`s headquarters in Geneva, Switzerland. 
"Looking forward from March to now, I don't think anyone would have forecasted that we would still be in such a stark situation, with thousands still without steady employment, as we try to manage and minimize the COVID-19 spread," said Philip Smith, executive Director Bahamas Feeding Network. "We are thankful for the financial support as well as time donated by the employees of Pictet Bank & Trust and Pictet Group Foundation." 
Responsible for the northeastern zone of New Providence and the Southern Islands of The Bahamas, BFN has seen the number of food parcels distributed increase from 13,000 during March through May to over 40,000 during June through August. 
"In keeping with the Pictet Group Foundation's initiatives which are focused on sustainability concerns such as water quality and affordability, water sanitation, hygiene and nutrition, we are pleased that we were able to assist the Bahamas Feeding Network in their efforts to bring some to relief to families in our community," said Carla Seymour, Vice President of Human Resources at Pictet Bank. "We look forward to continuing our philanthropic obligations to such worthy organizations as The Bahamas Feeding Network in the future."
"The donation was aimed at directly impacting and assisting the Bahamas Feeding Network in their partnership with the Government of The Bahamas to feed the thousands of Bahamians who, due to the severe economic backlash of COVID-19, find themselves unable to provide sustenance for themselves and their families," said Patrice Taylor, Business Partner, Human Resources at Pictet Bank. "Additionally, we are extremely proud of several of our colleagues who unselfishly represented us all by donning their masks, rolling up their sleeves and volunteering their time to assist the Bahamas Feeding Network in sorting and packing food items for distribution."
"The Government of The Bahamas committed $16 million to funding the efforts of the National Food Distribution Task Force through August," said Mr. Smith. The NGOs in charge of the nine zones throughout The Bahamas are responsible for donating $2.8 million to make the program a total of 18.8 million dollars. The NGOs are relying on corporate support and the general public to come up with their $2.8 million as well as to help extend the program for as long as necessary.
We cannot say thank you enough to all of our donors and supporters particularly at this time Pictet Bank and Trust, for the wonderful donation of time and money to assist in providing food for so many that find themselves in need of this most basic need on a daily basis. Over the past six months things have been extremely tough for more than 50% of the population."
"COVID-19 has dealt us all a life changing blow, and in many cases an uncomfortable blow", said Mrs. Taylor. "Yet, in the midst of it there have been many lessons - the most poignant being gratitude. One of the best ways to show gratitude is to give of our resources (time, money and talent) to those in need; and, we are extremely proud of the examples of gratitude displayed by our Nassau colleagues and the Pictet Group Foundation towards our local community."
If you would like to make a donation to the Bahamas Feeding Network please call 676-2636/ 829-3970/427-8477, visit bahamasfeedingnetwork.org or email us at bahamasfeedingnetwork@gmail.com