HELP FEED 5K FAMILIES at Solomon's, Grand Bahama!
12/13/2019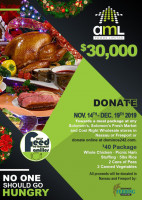 Please help us reach our goal by donating using the following link: https://together.bealiv.com/campaign/39/feed-the-five-thousand?fbclid=IwAR3D3wrGFE9likXGgXenMt3Ke0TnrtZQGPb4XmpyiZS2xGdrZOeKT4NI7i4
We are in the middle of our FEED THE FIVE THOUSAND CAMPAIGN! Our goal is to raise $150,000. AML Foods has jumpstarted our goal with a donation of $30,000 in celebration of its 30th anniversary in business.