'Let no one go hungry over the holidays' AML, ALIV, Bahamas Feeding Network Team Up to Feed 5,000 Families
11/16/2017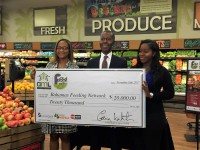 $100,000, 8-Store, Texting Campaign Announced, Most Ambitious Ever

Declaring that "no one should go hungry over the holidays while others are feasting," AML Foods Limited and ALIV announced today they will partner with the Bahamas Feeding Network for the most ambitious charitable campaign in the network and AML's history – to raise $100,000 to put food on the tables of families that might otherwise go hungry over the holidays. 

The campaign, called Feed 5,000 Families, will start in AML's eight stores tomorrow and run through December 17th with customers able to donate $40 holiday meal packages in full or contribute to the make-up of a package at the checkout counter. To jumpstart the campaign, AML Foods Limited pledged $20,000 to the feeding fund. In Nassau, participating stores include Solomon's Fresh Market Harbour Bay, Solomon's Fresh Market Old Fort Bay, Cost Right Wholesale, Solomon's Super Center and the new Solomon's Yamacraw store. In Grand Bahama donations can be made at Solomon's Lucaya, Solomon's Queen's Highway and Cost Right Wholesale Freeport. 

In addition to taking donations at checkout, the company is teaming up with ALIV to make donations to the cause easier. Starting tomorrow, ALIV customers can participate in the Feed 5000 Families drive by texting FEEDAML to 2648 to make a donation.  

"ALIV continues to fasten its increasing commitment to the people of the Bahamas. A key part of the ALIV brand encompasses creating meaningful experiences not only for customers, but also for those in our communities. This marks a shared effort to grant every man, woman, and child an opportunity to have a Christmas meal," said Bianca Bethel- Sawyer, Events, Sponsorship & Community Manager at Aliv. "We believe this project is a great way to end 2017, giving families a chance to gather together around a meal to celebrate the Christmas holidays and the traditions that bind us together."

Aliv customers can also donate by texting FEEDAML in the amounts of  $1, $2, $3, $4, AND $5 to 2548. 

The program was announced at a press conference today at Solomon's Fresh Market, Harbour Bay. This is the second year AML has led this initiative during the holiday season. Last year, with the support of the community and campaign partners, the company raised $64,000 and distributed 1,600 holiday meal packages to families in need. 

"This is the most amazing donation and an incredible partnership. We cannot thank AML Foods Limited enough, especially for understanding the need," said Philip Smith, Executive Director of the Feeding Network. "And this year we are really grateful that ALIV has joined the effort and is making it so easy to donate. 

"There is nothing more heart-wrenching than to look into a hungry person's eyes and see the sadness. It is bad any time of year, but over the holidays it can tear your heart out," said Smith, whose team of volunteers prepares, plates and distributes more than 2,200 meals weekly in an ongoing campaign to ease the pain of hunger. The Network partners with more than 120 churches, soup kitchens and feeding centers as well as distributing over 300 meals every Sunday in the Fox Hill community. 

"We are so grateful to AML Foods Limited which selected the Bahamas Feeding Network as its community feeding partner for this holiday season and is pulling out all the stops to make as much food available to people who truly need it," Smith said.  

Every $40 donation will buy a food parcel that includes a picnic ham, whole chicken, five-pound bag of rice, two cans of peas, two cans of vegetables and a box of stuffing. The package will comfortably feed a family of four.

"As a company, one of the key segments of our community outreach is hunger prevention. Last year, we started the program with an ambitious goal of feeding 5,000 families. With the tremendous support of our shoppers and corporate partners, we raised $64,000, a significant amount for our first launch. This year, we have set a goal of $100,000 which we believe will help us to increase our impact, helping more families in need celebrate the season with a special holiday meal," said Renea Bastian, Vice President of Marketing & Communications at AML Foods Limited.  "Our entire team is on board with this program and we look forward to working with The Bahamas Feeding Network making the season better for persons in our own community who might otherwise go without."

No purchase is necessary to make a donation at any Solomon's Fresh Market, Solomon's or Cost-Right location.  Donations can also be made at the Company's headquarters in Nassau or Freeport.