CFAL volunteers help Bahamas Feeding Network distribute meals to the hungry
04/07/2017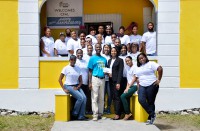 Colina Financial Advisors Limited (CFAL) employees celebrate 20th anniversary by serving up hot meals with the Bahamas National Feeding Network at Mosseff House in Fox Hill. The Network fed an additional 200 people thanks to the extra volunteers. In total, 1400 people, who regularly struggle to find food, received a meal.

Every night in The Bahamas, one in eight people go to bed hungry. As part of their 20th Anniversary celebrations, Colina Financial Advisors Limited (CFAL) has given back to the community by donating both time and funds to the Bahamas Feeding Network (BFN). On Sunday, April 2, 2017, a team of close to 40 CFAL staff members descended upon two locations in Nassau to help distribute hot food to those in need. CFAL also presented BFN with a check to assist the essential network in continuing to run its programs that help feed victims of hunger in The Bahamas.

"Thank you to CFAL and its incredible team of staff member volunteers," said Philip Smith, BFN Executive Director. "With extra help on hand, we were able to feed an additional 200 people who would have normally gone without a meal on Sunday." In total, BFN and CFAL volunteers distributed 1400 plates of chicken, peas 'n rice, salad and a special dessert. Teams were in place to give out food at the Network's Fox Hill centre, Mosseff House, and in a temporary tent set up in Retirement Park on Mackey & East Bay Streets. 

"This is a great way for staff to give back and help others in their community," Smith said. "Poverty levels are on the rise in our country. 12.5% of Bahamians live on or below the poverty line established at $11.64 a day. More than 46,000 people in The Bahamas experience hunger." 

The Bahamas Feeding Network supports feeding centres in churches, soup kitchens and other feeding outlets. That quiet behind-the-scenes work impressed CFAL as it attempted to identify worthy organisations to assist as part of its own 20th anniversary celebrations.

"As we at CFAL celebrate two decades of transformation, financial empowerment and growth, we want to reach out to show appreciation for those who regularly assist the community in meaningful ways," said Anthony Ferguson, CFAL President. "The Bahamas Feeding Network, which serves as a lifeline to so many, is deserving of our financial support and we hope others in corporate Bahamas will join us in supporting this valuable organization."

CFAL staff members who helped plate the food at Mosseff House were touched by the dedication of volunteers and by the appreciation of recipients. 

"I brought my daughters along to experience the realities of hunger in our society and to make a difference in the lives of others," said CFAL's Manager of Settlements, Tamara Evans. "It was a very rewarding experience for us all; one we won't soon forget." Bahamas Feeding Network began in 2013 as an organisation of 54 partners that united with one mission, to feed the less fortunate.  It has now grown to a network of 120 partners across The Bahamas, 80 of which are in New Providence, the island with the highest concentration of poverty. To date, the programme has contributed more than $450,000, in addition to food donations, to its partners.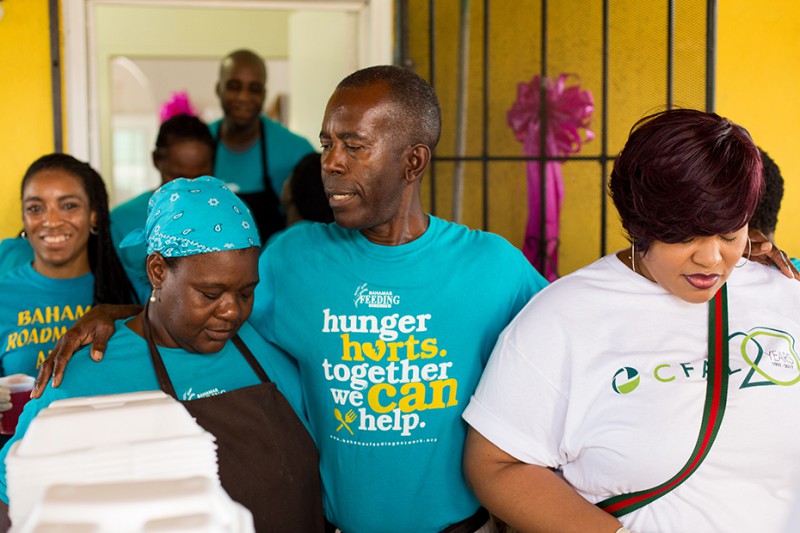 Philip Smith, the Executive Director of Bahamas Feeding Network, with volunteers from the organization and CFAL.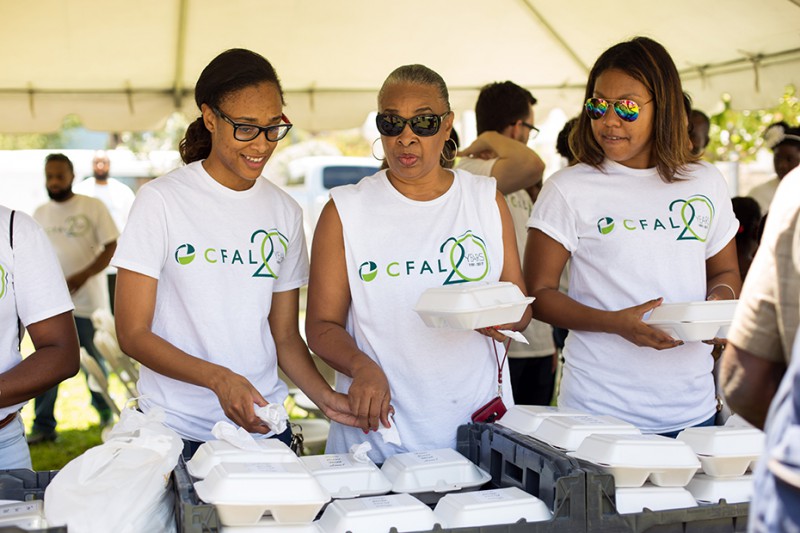 CFAL employees along with the Bahamas Feeding Network gathered to distribute food in Retirement Park.